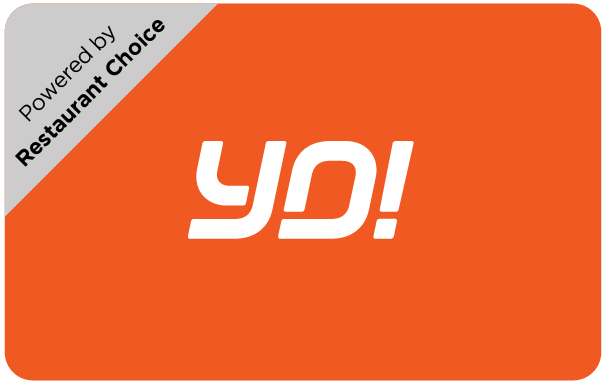 YO! Sushi is included in our
The Restaurant Choice Gift Card
find out more
Shop Now > Gift Cards > YO! Sushi
YO! Sushi
Select your Gift Card value and quantity
See all Product Details and Information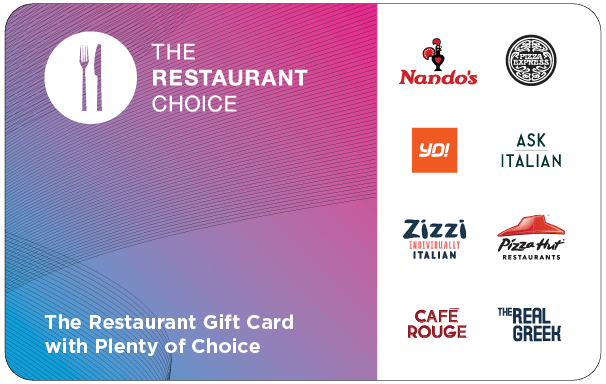 YO! Sushi is included in our The Restaurant Choice Gift Card
Offer customers and employees even more places to spend their reward with The Restaurant Choice gift card. With over 8 popular restaurant chains to choose from, you can make their gift even more flavoursome!
The Restaurant Choice Gift Card
Choice gift cards give customers and employees even more places to spend their reward
A Choice gift card gives you confidence that your reward is right every single time. Each gift card selection enables customers and employees to spend with a variety of popular brands and gives the recipient the control over when and how they use their reward.
You might also like these
Product Information
We're all about fresh, furiously flavoursome authentic Japanese street food and sushi. Although sushi's at the heart of what we do, we have a spectacular range of street food, from traditional classics to innovative fusion dishes designed by our Executive Chef and his team.
YO! Sushi is available via The Restaurant Choice, the number 1 multi-brand dining gift card! It makes a fantastic present for everyone and anyone. Friends, family and colleagues can have a meal on you, at any of the participating restaurants chains of their choice; one perfect gift.
The Restaurant Choice gift cards can be spent in a selection of popular dining chains across the UK. Participating chains include Nando's, Pizza Express, Yo!Sushi, Café Rouge, Ask Italian, Zizzi, Jamie's Italian, Byron Burger, Pizza Hut Restaurants and The Real Greek. With an option for every pocket and every palate, you'll be spoiled for choice. Please click here for a link to the Restaurant Choice website.
This gift card can be used to make purchases in-store only.
The minimum loadable balance for this card is £10 and the maximum balance you can have on a card is £200.
Funds are available to load in increments of £1.
For a list of the cards T's & C's, please click here. Your card will be valid for 12 months from the date of ordering before it will expire.
Once purchased, funds should be available for redemption on your Gift Card within 2 working days. You can check the balance of your card by clicking here or by telephoning 0121 260 2849. Please always check the balance on your card before trying to make a purchase.
If your Gift Card is lost or stolen please contact Customer Services as soon as possible so we can arrange for your Gift Card to be blocked.