See all Product Details and Information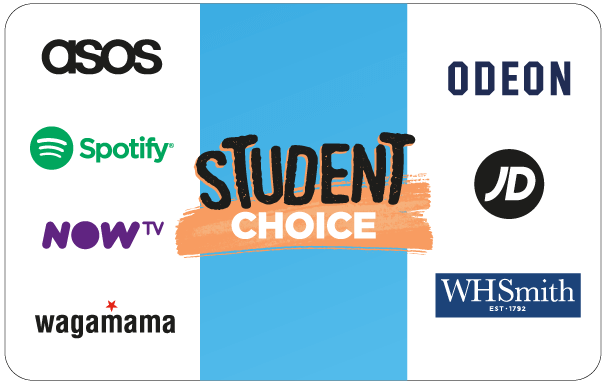 NowTV is included in our Student Choice Gift Card
Students like to have it all – and with a Student Choice gift card, they can! Give them a wider range of brands to spend with and they'll be able to stream music, eat out with friends and buy a pair of trainers.
Student Choice Gift Card
Choice gift cards give customers and employees even more places to spend their reward
A Choice gift card gives you confidence that your reward is right every single time. Each gift card selection enables customers and employees to spend with a variety of popular brands and gives the recipient the control over when and how they use their reward.
You might also like these
Product Information
A subsidiary of Sky, NOW TV offers many of the same channels and services of its parent company, but with no contract and no obligations and often at a fraction of the price. Unlike the more extensive and expensive packages offered by their competitors, NOW TV operates via passes, so you're only paying for the TV you actually want to watch - available via the Student Choice gift card now!
Gifts for students can be tricky; you want to give them something that they can enjoy, but you've no idea what that might be! The Student Choice gift card is the perfect answer; a flexible and practical gift that puts the choice in their hands.
No matter if it's your son or daughter, niece or nephew, grandchild, or a family friend, if they're off to college or university and you're looking for the perfect present, a gift card designed specifically for students is a great way to set them up for the year ahead. From birthdays to Christmas, "well done on your exams" to "thinking of you", the Student Choice gift card is a flexible and practical gift that can be spent anyway they please.
This gift card can be used to make purchases in store – please click here for details of all participating stores, and online by visiting the Student Choice website and using the card as a payment method for any of our digital brands.
For further details on using the Student Choice Gift Card, please click here.
The minimum loadable balance for this card is £10 and the maximum balance you can have loaded to a card is £100. Funds can be loaded in increments of £1.
For a list of the cards T's & C's, please click here. For FAQs, please click here.
Your card will be valid for 12 months from activation before it will expire.
Once purchased, funds should be available for redemption on your gift card within 2 working days. You can check the balance of your card by clicking here. Please always check the balance on your card before trying to make a purchase.
If your gift card is lost or stolen please contact Customer Services as soon as possible so we can arrange for your gift card to be blocked.