See all Product Details and Information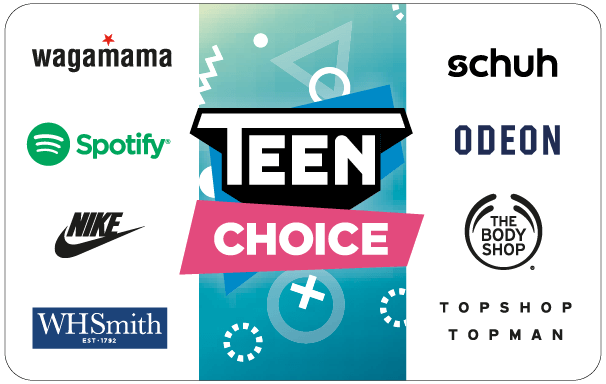 Spotify is included in our Teen Choice Gift Card
Did you know the Teen Choice gift card offers even more places to spend? Give teens control of how they use their gift, whether they want to grab a bite to eat, update their wardrobe or stream the latest music.
Teen Choice Gift Card
Choice gift cards give customers and employees even more places to spend their reward
A Choice gift card gives you confidence that your reward is right every single time. Each gift card selection enables customers and employees to spend with a variety of popular brands and gives the recipient the control over when and how they use their reward.
You might also like these
Product Information
The undisputed king of online music streaming services, Spotify has changed the game when it comes to how people of all ages and all musical persuasions enjoy the latest albums, singles, and plenty more besides. A platform that many have tried to replicate and many more have unsuccessfully tried to dethrone, Spotify has become the platform of choice for the majority of young music fans, and it has managed to do so in under a decade - available via the Teen Choice gift card now!
Choosing the perfect gift for the teenager in your life can feel like an uphill struggle and it feels like their likes and dislikes change daily.
Stress less and give the perfect present every time with the Teen Choice Gift Card for teenagers. Teen Choice Gift Cards for teenagers can be loaded with any value from £10 to £200, making them perfect for any occasion; big or small. From birthdays to Christmas, and Easter to the "end of exam" celebrations; buy your Teen Choice Gift Gard today and give the gift of choice.
This gift card can be used to make purchases in store – please click here for details of all participating stores, and online by visiting the Teen Choice website and using the card as a payment method for any of our digital brands.
For further details on using the Teen Choice Gift Card, please click here.
The minimum loadable balance for this card is £10 and the maximum balance you can have loaded to a card is £100. Funds can be loaded in increments of £1.
For a list of the card T's & C's, please click here. Your card will be valid for 12 months from activation before it will expire.
Once purchased, funds should be available for redemption on your Gift Card within 2 working days. You can check the balance of your card by clicking here. Please always check the balance on your card before trying to make a purchase.
If your gift card is lost or stolen please contact Customer Services as soon as possible so we can arrange for your gift card to be blocked.